$head[MENUFIXFOOTER]
Got questions? We have answers
Last News

Dinevite BETA available
Restaurants in Nassau County, NY are invited to claim their page in June 2022 for the BETA launch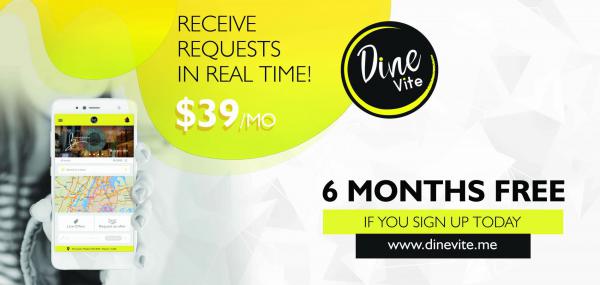 DineVite announces launch plans
DineVite released a press release on Friday, February 28, 2020, announcing that it would be unveiling its web and mobile platform at the International Restaurant and Foodservices Show at the Jacob Javitz Conversion Center from March 8-10, 2020.
With DineVite restaurants regain control of promotions:
Effective Customer Acquisition
Restaurants can regain control of acquisition and promotion costs, while providing customers a VIP experience.
Enhanced Communication
Restaurants can communicate directly with hungry consumers at the moment they are deciding where to dine.
Fill your
empty seats
Every venue has slow nights. Dinevite bridges the gap in a in-win for restaurants and consumers. Cost and result effective.